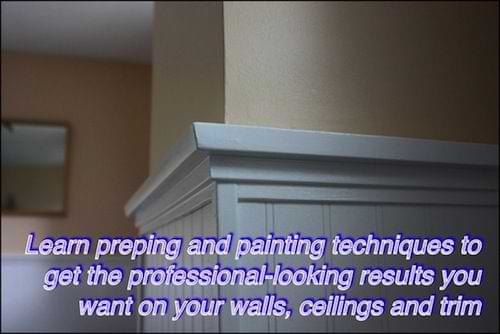 If you want to make improvement around the house, whether it's building some custom trim molding to spruce up your living room, choosing a great paint color for your walls, knocking down some walls and remodeling your space, or running some new wires to add more convenience, you can find the help you need at the links to the right of this page. And check out the featured tutorials below for helpful instructions and lots of illustrations to do these projects:

Repair a Window Sash Cord
Old double-hung wooden windows will often have at least one broken cord. If both are broken the window will be hard to open and won't stay up. Fortunately, it's not a hard repair and you'll have working windows when you're done.

Learn Skim Coating Techniques
Whether you have a little rough patch on you wall or you need to smooth out a whole room, use these skim coating techniques to get the results you want.

Mix Your Own Faux Painting Glaze and Colors
To do sponge painting, a faux granite or any of the glaze painting projects on this website, you'll want to know how to mix the glaze to the right consistency and how to change the color of your paints. Using the color wheel and instructions at this link, you can mix any color you want for any process you have in mind.

Strip Old Wallpaper and Paste
If you have wallpaper you want to get rid of, you'll need to strip it to get down to the bare wall. It's important to get the paper and all the paste off or it may ruin your new paint job. Use this process for the most painless way to accomplish your goal.

Paint Your Kitchen Cabinets
No matter what material your cabinets are made of you can probably paint them for a quick, inexpensive way to give your kitchen a facelift. In a weekend you can use this process for an easy home improvement that will make a big difference.