Get Help With Your Next DIY Project!
Interior Wall Painting Ideas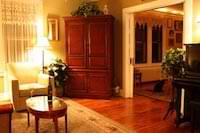 There are a lot of places to find inspiration for new color choices and accents for room painting. Take a look at home store advertising flyers, catalogs, and magazines, or TV and movies. If you keep your eyes open, you'll find many good and bad ideas for painting and decorating your home, all around you. We've included in this article some interior painting tips that we thought would fall into the good idea column.
Rejuvenating your décor can be as easy as adding a new, dynamic color to your walls or even just one wall of a room. This can be a quick and easy way to revive and renew the feel of your home without lots of work or expense. If you already have white or off-white trim and ceiling paint, adding an accent color to the walls can be done in a day or two. Read More
How to Repair Ceiling Holes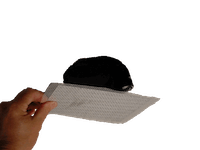 Ceiling holes present a particular challenge when attempting to do repairs. Because gravity will pull down on the patching material as it dries, a bulge can develop in the surface and cause an unsightly finish when you're done.
If you're dealing with a smaller ceiling hole, you can use a self-sticking, aluminum reinforced patch like the one shown here for a quick, easy repair process. A drywall patch like this can be found just about anywhere wall repair materials are available. Read More
How to Remove Old Wallpaper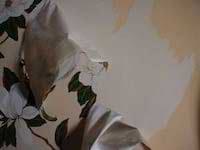 Wallpaper removal is a messy job no matter how you do it, but if you want to get rid of old wallpaper, you really have no choice but to strip it. While it may be a bit of a hassle, it's well worth the effort when the result is a fresh new wall to decorate.
Stripping the paper off the walls is probably the toughest part of the job but the most important part is dissolving the paste. After the paper is gone the paste will be left behind, causing new paint finishes to crack and even new wallpaper to peel. To be successful, you need to dissolve and get rid of all the paste. For this we recommend Savogran® stripping solution. Not all liquid strippers will dissolve the paste so it can be washed off the walls, but this one does a good job with the least effort. Read More
Trim Molding Design Ideas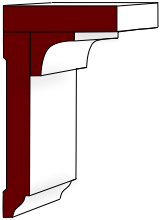 Decorative trim molding can transform the interior of a room like nothing else. For example, in a large room with high ceilings, using wide moldings for crown, door casings, and baseboards can make the difference between a cold and cavernous effect upon entering and a warm, cozy feeling. Including lots of decorative trim was once the norm for builders to make these and other rooms more inviting and interesting. Unfortunately this practice has gone by the wayside with the cost oriented approach to home building today.
Fortunately, it's easy to retrofit the moldings that were omitted by the builder, or create original designs of your own by stacking finish lumber and commonly available trim profiles. This page contains some ideas for building these designs and some techniques and pointers for installing them yourself. Read More
Painting Faux Stone Finishes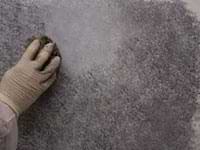 Using the process described on this page, you can paint a faux stone finish on just about anything. With just a couple different glaze colors, several different types of stone can be simulated on ordinary household objects like vases, picture frames, or even furniture.
Stone like granite is found in a few different colors in nature: gray, brown, and black shade are common and we use those for the projects described here. The gray stone finish is the simplest to do with just two colors involved. Brown is the most complex, requiring five different colors of paint and glaze to create. All of these finishes are easy to do, just follow the chart below and apply the colors in the order and density called for. Read More
How to Repair Torn Drywall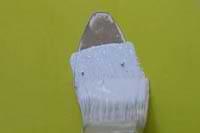 Drywall paper can be damaged when a wall is gouged while moving furniture or other common household activities. Water can also damage drywall paper, causing the surface to pucker and ripple. This can happen when removing wallpaper with a liquid stripper or due to a leaking pipe or roof.
The most important part of repairing damage like this is sealing it so it doesn't absorb any moisture from the repair compound and touch-up paint. If you don't seal the surface, the repair process will cause the undamaged layers of paper to bubble and ripple again, and no amount of sanding will fix the problem. Use the following procedure for a trouble free repair of torn drywall. Read More
How to Choose a Paint Brush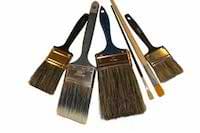 For painting projects around the house, you really only need 2 or 3 "good" paint brushes. Even if you need to paint every room in the house and the entire exterior too, you will likely want just a few favorites to do it all.
Good paint brushes aren't cheap. A basic high-end, 3 inch brush will start at around $15.00. This may seem like a lot to pay, but as long as you wash it properly after each use, a brush like this will last through many years and painting projects. In reality, a quality brush will be much cheaper in the long term than a low-end one. Read More