Get Help With Your Next DIY Project!
How to Paint High Ceilings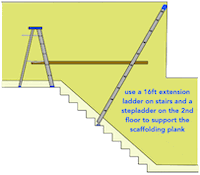 If you need to paint high walls and ceilings in a stairwell or a great room, you'll need to use an extension ladder and maybe build scaffolding to reach some of the farthest points. On this page are a few tips and techniques for working in stairwells and building quick, improvised scaffolding with dimension lumber.
If you don't want to deal with ladders, another method for painting a high ceiling while standing on the floor is also described here. This requires attaching a brush to an extension pole and using the same color paint on both the ceiling and walls. Read More
How to Crackle Paint Furniture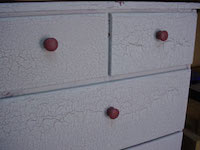 Crackle is a faux painting process often used to decorate furniture in need of a new finish because of damage or just to make the piece more interesting. It can be applied to any paint-able surface but it's usually reserved for small features and not for large spaces like walls.
This effect resembles cracking paint and usually includes contrasting paint colors for added effect. It may also be used on surfaces like bare wood or brick using a clear base coat instead of paint to reveal the natural beauty of the surface underneath. Read More
Installing Drywall Corner Bead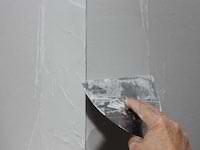 Outside drywall corners can be finished with either metal or paper bead, but metal is the easiest to install and by far the best choice for durability and professional results. Drywall sheets usually don't come together perfectly at the corners, a metal bead forms its own corner to cover any irregularity in the union. Paper corner bead can't do that and the finish may appear wavy and irregular when finished.
For a durable finish use setting-type joint compound, or mud, for the first coat over the metal. Ready-mixed can be used for the second and finish coats, but it's too soft and prone to shrinking when used in a thick application like that required to cover metal corner bead. Work quickly when using setting compound to be sure it doesn't harden before you're done. Read More
How to Build A Picket Fence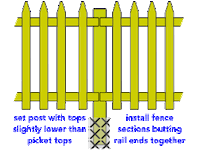 This fence design requires 11 1x3 furring strips per 8 foot section. Two for the rails between the posts, and 9 strips cut in half to make 18 pickets per section. At an average price of $1.60 each for furring strips, that's about $18.00 for each fence section. You'll also need extra pickets to cover the corners and the union between each section. In addition, if you plan to have a gate, you'll need more furring strips for that, plus hinges and a latch. Finally, you'll need 4x4 posts and stain or paint to finish the wood. Read More
How to Use a Paint Brush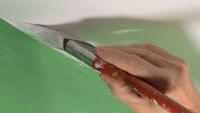 Painting with a brush comes into play when you need to paint around the corners, or "cut-in", before painting the walls of a room with a rollers. You'll also need to use a brush to coat trim moldings, doors, and windows. Using a brush can get a bit messy if you're careless while loading it or when you need to set it aside to do other things. Below are some tips and techniques for handling a brush for applying paint to get good coverage and a professional looking finish with minimum mess. Read More
Lamp Switch Wiring Diagrams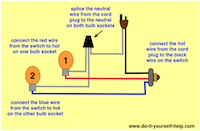 Here a 2-way push-button switch is wired to a lamp with 2 bulbs. This diagram can be used to rewire an old push-button lamp with a new switch replacement. The hot wire from the cord is connected directly to the black wire on the switch and the neutral is spliced to the neutral contact on each bulb sockets. The red and blue wires from the switch are each connected to the hot contact on one of the bulb sockets. Read More
How to Repair Ceiling Holes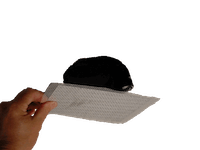 Ceiling holes present a particular challenge when attempting to do repairs. Because gravity will pull down on the patching material as it dries, a bulge can develop in the surface and cause an unsightly finish when you're done.
If you're dealing with a smaller ceiling hole, you can use a self-sticking, aluminum reinforced patch like the one shown here for a quick, easy repair process. A drywall patch like this can be found just about anywhere wall repair materials are available. Read More
How to Repair Nail Pops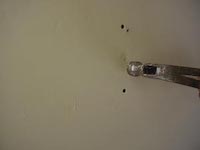 Nail pops occur in walls and ceilings when the nails or screws holding the wallboard to the framing become loose over time. This allows the wallboard to move and as a result, the nail heads push through the surface causing an unsightly blemish. Using the repair technique on this page, the wallboard can be stabilized and the pop permanently repaired. Read More