Interior Room Painting Ideas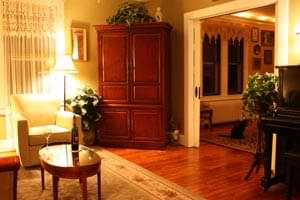 There are a lot of places to find inspiration for new color choices and accents for room painting. Take a look at home store advertising flyers, catalogs, and magazines, or TV and movies. If you keep your eyes open, you'll find many good and bad ideas for painting and decorating your home, all around you. We've included in this article some interior painting tips that we thought would fall into the good idea column.
Try Deep Colors on Walls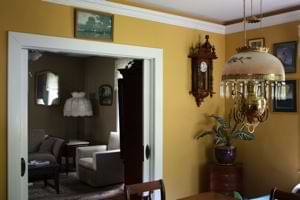 Rejuvenating your décor can be as easy as adding a new, dynamic color to your walls or even just one wall of a room. This can be a quick and easy way to revive and renew the feel of your home without lots of work or expense. If you already have white or off-white trim and ceiling paint, adding an accent color to the walls can be done in a day or two.
Painting all the walls a deep, intense color and the trim white like this can create a feeling of refinement and sophistication. Using white on the ceiling will reinforce this motif. This is a particularly good look for older homes with wide, ornate moldings, but can also work well in a newer townhouse or condo with lots of door and window trim.
For a touch of class, try using a deep color such as burnt orange or dark red to accent one wall of a living room or bedroom. Having one wall a much deeper color will focus attention there and distract from other less attractive features such as heating vents or a dark corner. This effect can also make a narrow room look larger and more inviting or make your living room the focal point of your home.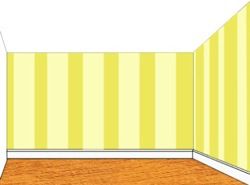 Paint Wall Stripes
Another way to put some pop into your décor is to paint vertical stripes on your walls. This is another scheme that works well as an accent on just one wall, or the whole room. Stripes can also be a good idea for painting a bathroom or kitchen.
As an added benefit, varied stripe widths and colors can add more pizzazz to your room, especially if you use bright, vibrant colors like red and yellow. For a more conservative but still daring scheme, use muted earth tone stripes on your walls. Add a bit of sophistication to your living room, for instance, using two subtle colors of alternating stripes like beige and bone white. Wide stripes of about 10 inches, using muted colors like this, can soften the striping effect making it blend with the décor and tie a room together.
Off-White Adds Warmth
To add warmth to your home try using a dark, off-white like antique or bone white on the ceiling and trim. The darker color will bring less attention to the ceiling than if a traditional white is used. This can make the ceiling feel lower and as a result everything feel cozier. The darker trim adds to this feeling, especially when using earth tone wall colors. But that doesn't mean this is not a good choice to accent bright wall colors too, darker ceiling and trim paint will help any room that needs a little warming up.
Venetian Plaster and Faux Finishes
Other ideas for painting interior walls that work well in moderations are venetian plaster and faux finishes. Venetian plaster is a spackling paste or mud-like material that is applied to the wall to create a rough, random finish. The dry plaster is then polished to create a sheen resulting in the appearance of a solid plaster or masonry wall. This wall finish can be quite dramatic and may be best used on one wall rather than an entire room.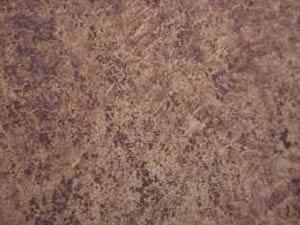 For painting a whole room, a faux finish is probably a better choice than Venetian plaster or stripes. Faux finishes can include many different processes such as sponging and rag rolling, comb dragging and craft paper finishes, as well as faux stone, marble finishes, antiquing, and distressed effects. The best finishes for walls are probably sponge painting and craft paper effects. These processes can be done in varied shades of one, or multiple colors in either regular or random patterns depending on your taste.
Sponge painting can be a good choice for faux finishing walls where you want to do something a little different but you don't want to get too crazy. Simple sponge painting effects, using just one or two colors, are best suited for bathrooms or a kid's room where an uncomplicated theme is desired. For the more grown-up areas of the house, a craft paper effect will accent décor with more sophistication. This finishing process also makes a good substitute for wallpaper, as with the one pictured here where a combination of sponge painting and craft paper finishing is done using three different colors.
You can use just one of these room painting ideas, or combine a few to accent any room in the house. If you're really ambitious, try completely redecorate an entire room, or the whole house, for exciting new décor without the big price tag.
More Like This on Do-It-Yourself-Help.com