Traditional Trim Molding Styles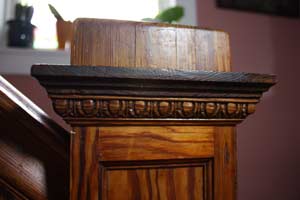 Trim moldings used to decorate most homes in the U.S. are usually a combination of a couple of different styles and not strictly one or other. For example, rosettes which are generally considered a Victorian feature, will go well with Colonial and Neoclassical trim molding styles as well.
If you have a Craftsman house, there may be a combination of molding profiles and geometric designs used for accents. It was a choice of the builder to create his own trim design and often the locally available profiles would be the driving force here. These molding profiles will include some the same shapes used in other trim styles and are arranged to draw attention to the woodwork and grain.
Choosing Your Trim Style
Choosing a trim style for a particular room is mostly a matter of personal taste but a couple of rules should be observed. The size of the room, for instance, will dictate molding size with regard to width and depth. As a basic rule of thumb, rooms with a low ceiling of about 8 feet will accommodate baseboards no wider than about 4 inches. Ceilings of 8½ feet can accommodate upwards of 6 inch baseboards, and in rooms with higher ceilings, baseboards can be 8 inches wide and more as room size becomes bigger.
The other moldings in the room: the door and window casings, chair rails, and cornice or crown should be kept in proportion to the baseboards. Don't, for instance, use a 5 inch door casing with a 4 inch baseboard. Use a casing of 3½ inches or less. In general, keep the other moldings in the room smaller than the baseboards except for the crown moldings. Crown can be as wide or wider than the baseboard and can even migrate onto the ceiling becoming quite elaborate. Although including much of the ceiling in the crown molding design should only be done in a room with a higher ceiling of 9 to 10 feet or more.
Because some of the traditional styles of trim molding such as Victorian are very wide, they are only suited for larger rooms. This doesn't mean you can't use some features of classic moldings in combination with simpler styles to get the effect you want. Adding a strip of beading, as found in Victorian homes, to an otherwise simple Colonial chair rail can create a lot of interest without a lot of added size or frills. Looking at the profiles below can help in deciding the best trim style or combination to use for your room.
Colonial Style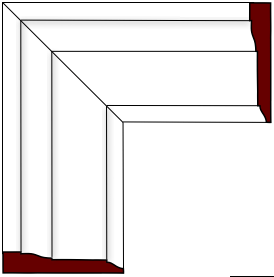 Trim molding in the Colonial style is very basic with few if any frills. Coming from the 17th century when the typical early American home was small and the owners had little extra money, these trim pieces are narrow and suited for average-to-smaller rooms with ceilings of about 8 feet. Other features that characterize Colonial décor are exposed ceiling beams, wall frames, and built-ins around windows and hearths.
Colonial molding tends to be smaller with casings at around 2½ to 3½ inches and crown, if used at all, in the same range. Baseboards are a plain 1by board with a modest base cap profile trimming the top and quarter-round shoe mould along the floor.
Neoclassical Style
Coming from the mid 17th to the mid 18th centuries when homes began to get larger and their owners more affluent, Neoclassical trim is very ornate and wide. It is well suited for large rooms with high ceilings of 9 feet or more.
Inspired by Greek and Roman architecture, tall double doors and deep window surrounds are typical of the style as are elaborately decorated pediments over doorways and crown moldings with lots of urns, garland, and swags in relief on the surface.
Victorian Style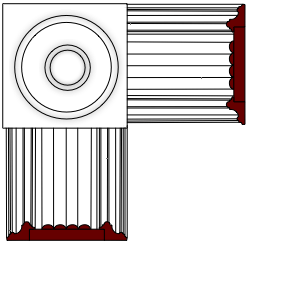 Coming from the mid 19th to early 20th centuries, Victorian trim is typified by excess. Driven by the industrial revolution and the ability to mass produce moldings and other decorative features, the Victorian era saw an explosion of decoration in home décor including: elaborately carved rosettes, Gothic features, and gingerbread.
Victorian style trim is typically wide and deep making it suited to rooms with high ceilings. Thick or deep casings around doors and windows, wainscot, and baseboards can overwhelm small rooms with lower ceilings, but some features of Victorian décor can still be used in the average room. For instance, try using brackets at doorway corners or rosettes in door and window casings in small rooms with low ceilings to jazz things up.
Arts and Crafts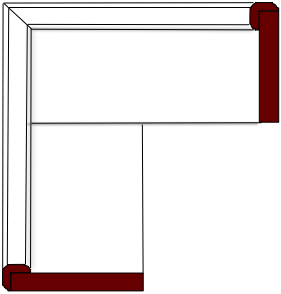 An early 20th century trim molding design, Arts and Crafts style is found mostly in North American homes where the individual builder was often the designer as well. This style consists mostly of straight lines with bevels in leaded glass and geometric shapes in wood typically the extent of decorative features used. Also called Craftsman and Mission Style, this trim emphasized the wood grain as opposed to ornately carved and shaped edges. A natural finish is typical rather than paint, making imperfections in the wood or joinery easily visible. The quality of these moldings would reflect the level of skill of the trim carpenter, who would be a craftsman in his work and often also the home's builder, hence the name Craftsman Style.
Stylish simplicity is the theme for Arts and Crafts trim, this separates it from some of the other styles mentioned here that use shear abundance to create an interesting trim decoration. This style is more organic, arranging shapes that play against one another to bring out the beauty of a room and create a flow from one area to another.
You'll find mostly flat boards around door and window casings in Arts and Crafts home with the more elaborate profile designs reserved for prominent features of a room like a staircase, built-in bookcase, hearth, and wainscoting with recessed panels. Other telltale signs of this style include inlaid wood designs in flooring and wainscoting and elaborately built cabinets in bathrooms or window seats in living rooms and bedrooms.
More Like This on Do-It-Yourself-Help.com